Pastoral Letter Regarding Racial Injustice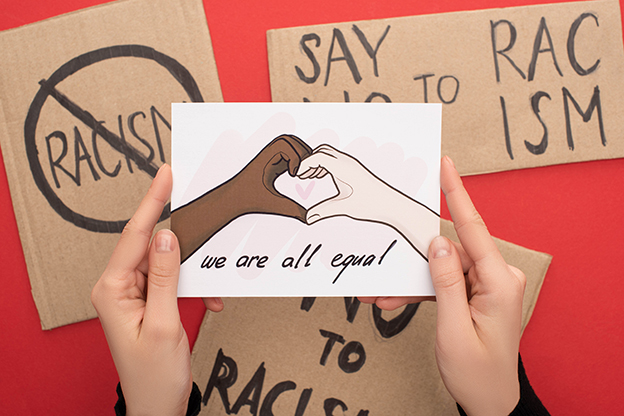 Dear Church Family,
Like you, my heart has been breaking over this past couple of weeks at the events unfolding (again) in our country. Like you, I have been watching and praying, listening, and reading—seeking words to better understand, words to humbly share, words to know how to meaningfully respond, and act. Like you, I have experienced grief, weariness, anger, and hopelessness. We have seen this cycle play out again and again—too many times to count. With the Psalmist, our hearts cry out, "How Long, O Lord?"
Although in many ways I still feel "stuck" in much of this angst and unknowing, as your pastor and fellow sojourner on this journey of faith, I need to share a few words, imperfect and incomplete, to remind of us, the Church of Jesus Christ, who we are and to what we are called.
In scripture, the apostle Paul reminds us, "For in the one Spirit we were all baptized into one body—Jews or Greeks, slaves or free—and we were all made to drink of one Spirit… God has so arranged the body, giving the greater honor to the inferior member, that there may be no dissension within the body, but the members may have the same care for one another. If one member suffers, all suffer together with it; if one member is honored, all rejoice together with it." 1 Corinthians 12:13, 24-26
The painful reality is that there are members of 'the body' that are suffering. While we all have experiences of suffering in our lives, we are reminded again that people of color, especially black Americans, experience suffering in the forms of prejudice and violence, as an all too frequent part of their lives. In response to the final pleas for help from George Floyd in Minnesota last week, protesters, standing in solidarity with the victims of injustice, have declared, "If you can't breathe, I can't breathe."
As people of faith, when one part of the body cannot breathe, we are all denied the breath of life. The constitution of the Presbyterian Church (USA) reminds us: The unity of believers in Christ is reflected in the rich diversity of the Church's membership. In Christ, by the power of the Spirit, God unites persons through baptism regardless of race, ethnicity, age, sex, disability, geography, or theological conviction. There is therefore no place in the life of the Church for discrimination against any person. (emphasis mine)
Of course, the challenge of human sin as it relates to the walls we create to separate us one from another are not unique to our country or our time. Our denomination recently adopted into its Book of Confessions the Belhar Confession of 1982, written by South Africa's Dutch Reformed Mission Church during the time of apartheid. They declared, on behalf of the whole church, "We believe ... that unity is, therefore, both a gift and an obligation for the Church of Jesus Christ;...that this unity must become visible so that the world may believe that separation, enmity, and hatred between people and groups is sin which Christ has already conquered, and accordingly that anything which threatens this unity may have no place in the Church and must be resisted."
Having affirmed what we believe, we are prone to ask what we should do, what steps can we take, how can we fulfill the call to boldly and proactively resist discrimination, separation, enmity and hatred. For the majority of us who, like me, have white skin, I believe the first response should be to listen. Listen to the voices, the stories, the experiences of our black and brown siblings in the family of God. Hear their weariness, their lament, their life long struggle against prejudice. Then, and this is crucial, believe them. Though their experience of life is different and may seem hard to believe ("Haven't we come a long ways since___?" "But not in our community." "I don't see that happening"), honor their reality by believing their story. As a first step, I encourage you to listen to the reflections of The Reverend Dr. J. Herbert Nelson, II, Stated Clerk of the General Assembly of the Presbyterian Church (U.S.A.) here.
A second step is to join the lament, share in the suffering as others in the body suffer. In humility, we should examine ourselves, enter into confession about the roles we play, the silence in the face of injustice that we tolerate, the inability or the unwillingness to be a part of the solution. Our tradition teaches us that confession is an important element of our worship of God. We need to be regularly reminded that we fall short even as we also do so in the confidence that we are assured of our forgiveness, restoration, and reconciliation with God and with one another.
This assurance, "the Peace of Christ" as we often say and practice, can then lead us into a third step with open hearts and minds to continue listening, learning, understanding, and discerning action to be engaged in that Christ-centered ministry of reconciliation. In the coming days, we will be sharing resources and an invitation for our church family to engage in dedicated study and dialogue together around the issues of racism and injustice. I have also shared further reflections on these concerns in the sermon on June 7 which you can access on our Live Stream page.
Friends, in a time when we are still also bearing the weight of this pandemic, I encourage you to reach out by phone or email to each other. Share your stories, your concerns, your laments, and your hopes for our world and for our church. As always, you are welcome to reach out to me as well with your thoughts and your prayers. My door, even virtually, is always open!
We have work to do, but as were recently reminded, the Spirit of Pentecost continues to blow through us, equip us, and guide us. We do not do bear this burden alone and we do not do this work alone. God has called us for such a time as this to be witnesses to the Good News of God's love made known in Jesus Christ – for us ALL! Amen.
Peace,
Corey