Summer 2021 Worship Plans and Protocols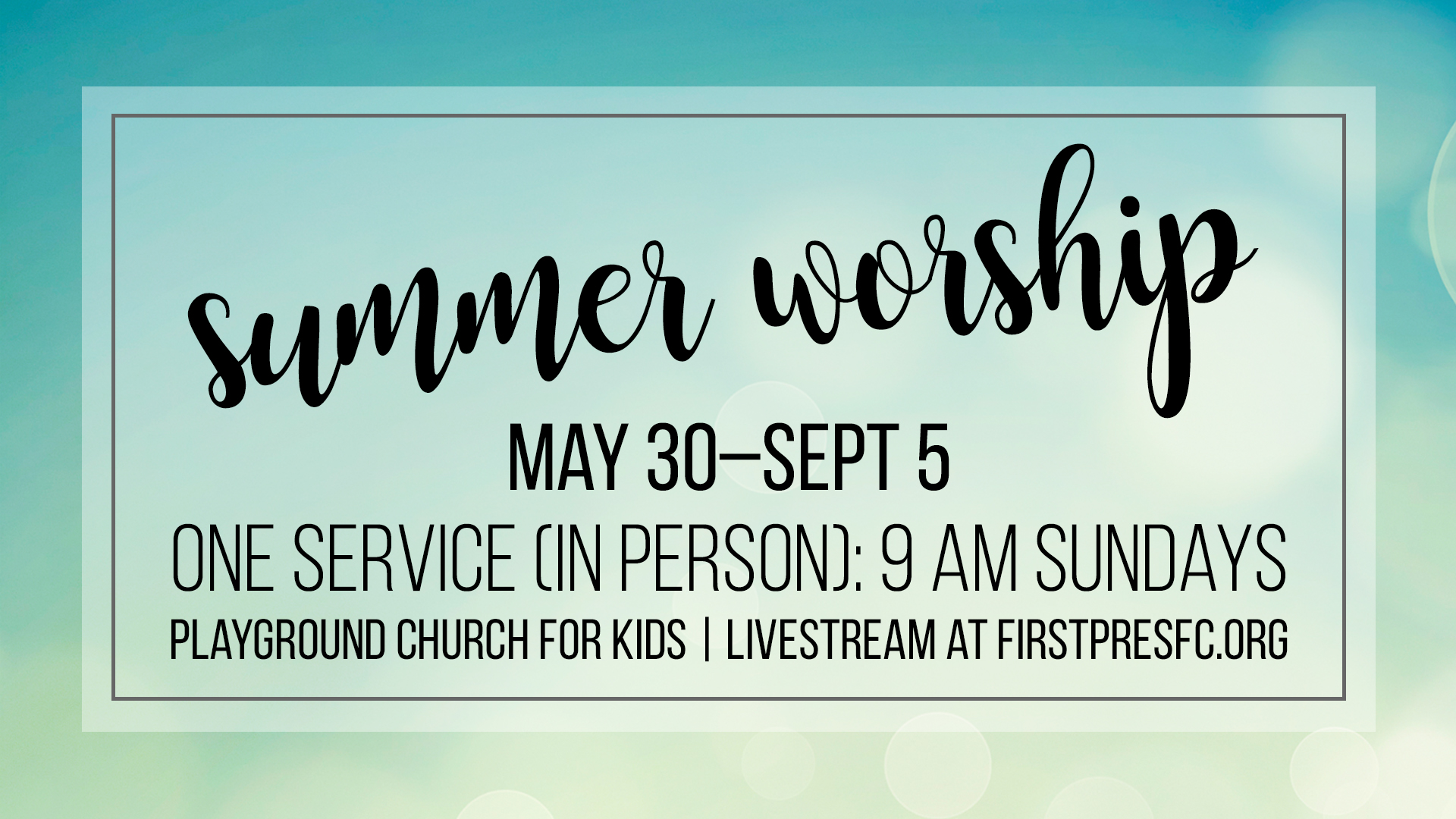 Dear Friends,
Beginning Sunday, May 30, and continuing through the summer, First Presbyterian Church will offer one in-person worship service at 9:00 a.m. with the following guidelines:
Reservations for worship will no longer be required as seating in the sanctuary will now be open.
Masks will be optional for those who are fully vaccinated. Those who are not vaccinated are strongly encouraged to continue wearing a mask as well as anyone who is more comfortable wearing a mask in this environment. Masks and hand sanitizer will continue to be available.
We will continue to request that everyone enter the sanctuary through the narthex doors off the lawn and we will maintain our current practice of a 'touchless' service.
There is no Sunday school this coming weekend due to the holiday, but outdoor Playground Church will resume on June 6 for our children. They will not be required to wear masks outdoors but will be asked to wear masks if they need to move indoors due to weather. Plans for youth ministry and adult study groups will be updated on our website.
These changes are being made in consultation with our COVID Task Force and with the approval of our Session. We recognize that this may be received as a sudden shift in our practices which may be liberating for some and cause anxiety for others. We ask, in the spirit of FPC's Behavioral Covenant, that we each make choices for the good of the community and respect that people will be in different places regarding their own comfort levels and decisions. During this time, increased sensitivity to one another's desire for distancing and connection (to shake hands or not, to sit close to someone or give them more room, etc.) will be an important gesture of our grace and consideration of one another. Please choose to stay home if you are experiencing symptoms or have had a known exposure. We also encourage everyone who is eligible to get the vaccine for their own safety and the benefit of our communities.
We know that this change may mean that some are more likely to attend in-person worship and others may be more likely to participate from home online — at least for the time being. With this in mind, we are committed to continuing our high-quality livestream service and plan to offer both in-person and online options for other programs and ministries in the near future.
I want to thank our task force, our Session, and staff, and many other leaders and volunteers who have thoughtfully shepherded our congregation through the challenges of these past 15 months. I'm so grateful for your excellent and gracious leadership. If you have any questions or concerns, please do not hesitate to reach out to me or any of our other staff or leaders. Thank you all for your continued support, encouragement, and patience as we continue to fulfill our calling to be a Christ-centered, open and welcoming church on the move.
Peace,
Corey