Welcome Back to Church: Return to In-Person Worship Scheduled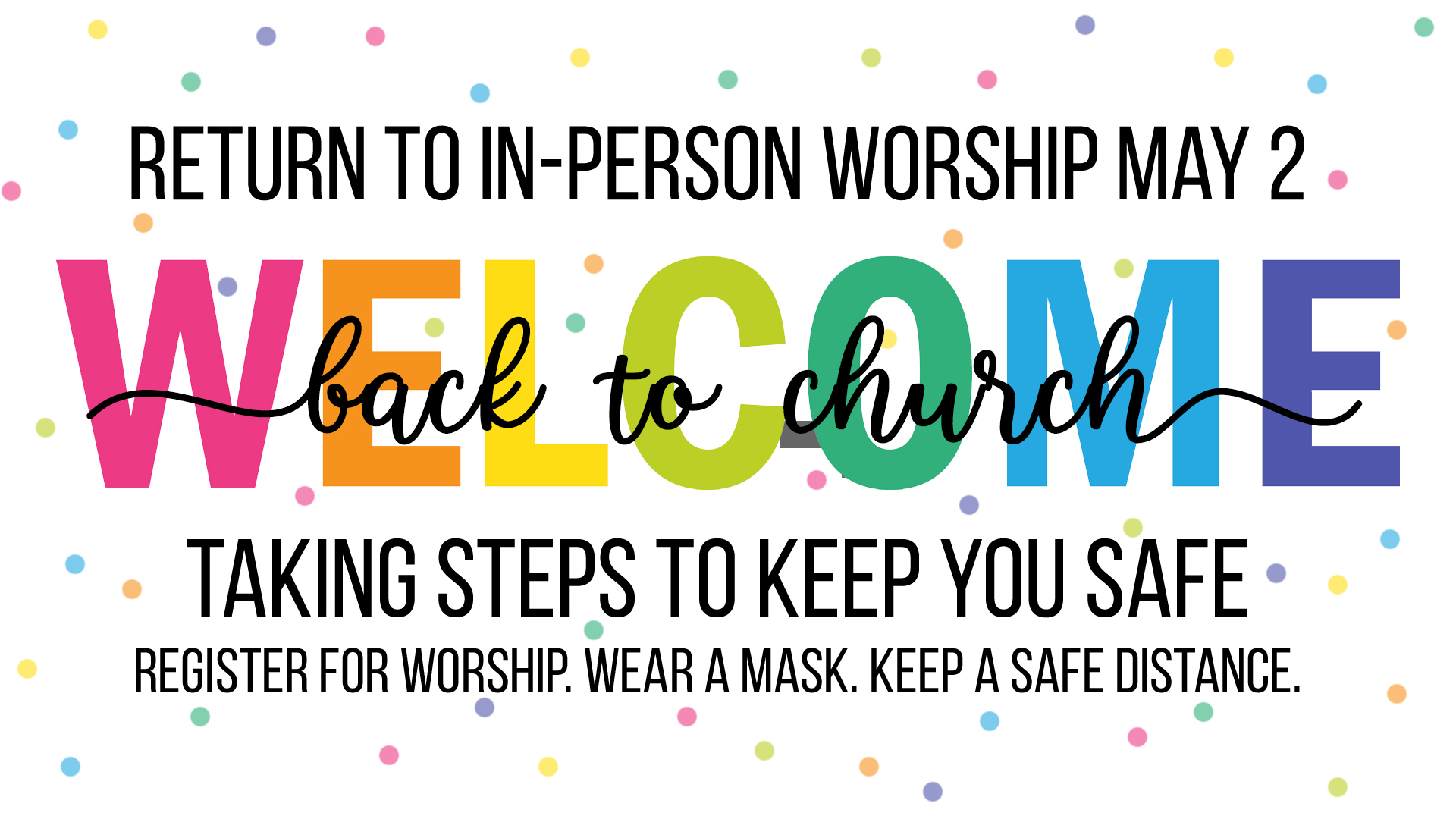 UPDATE APRIL 22, 2021
We are eagerly preparing to return to in-person worship Sunday, May 2.
Here's what worship looks like for the month of May:
Worship in-person at one of two identical services at 9:00 or 11:00 a.m.
Worship online with our livestream at 9:00 a.m. or on-demand thereafter.
What to expect?
Register your household and your children: We will require advance registration online for each service. Register beginning at 10:00 a.m. on Monday before the following Sunday's service. You cannot register before 10:00 a.m. Reservations for May 2 will begin on April 26. Registrations will be limited to approximately 50 households per service to maintain distancing in the Sanctuary.
When you arrive Sunday morning, our team will greet you at the Narthex doors. All congregants must enter the Sanctuary through the Narthex. The doors near the church office will remain locked.
Masks are required for entry and must be worn for the entire service.
We invite you to come early so our team can check you in. Then an usher will escort you to your seat in the Sanctuary, where we will observe social distancing.
The choir is vaccinated, will be wearing masks, and be appropriately distanced for worship.
We encourage you to text-to-give, give online, mail a check to the office, or stop by during the week. Offering plates will also be available as you leave the Sanctuary.
After worship, households will be dismissed by pew and directed outside.
What safety precautions will be taken?
We want to reopen in a way that continues to keep people safe and follows local guidelines.
Registration is required for contact tracing.
Our team will wear masks and have their temperatures taken before your arrival.
All worshippers will wear a mask and observe social distancing. Please do not attend if you feel ill or have direct contact with anyone who has a positive COVID-19 test.
We will have no bulletin or order of worship—projected slides will guide us through the service.
Pews, bathrooms, and other high-touch surfaces will be cleaned between services.
Doors will be propped open to encourage fresh airflow.
What about kids?

Our Children's Ministry team has prepared a safe and fun experience for children both online and in person.
Nursery: Nursery care for Infants—4-year-olds is available during both the 9:00 a.m. and 11:00 a.m. services. All Nursery workers have been vaccinated and will wear masks. The Nursery surfaces and toys are cleaned regularly with safe products.
Playground Church: Kids ages 4—5th grade will meet on our playground (weather permitting) during either the 9:00 or 11:00 a.m. service. Bring your Sunday school bag with you. (Contact Pam Armstrong if you need a bag). In inclement weather, Sunday school will meet in Shepardson Hall, and children will be required to wear masks.
Zoom Sunday School: For those who are not ready for the in-person experience yet, log in at 10:00 a.m. for Zoom Sunday school with Miss Pam and friends. Bring your Sunday school bag — no masks required!
What about youth?
Youth Sunday School: 6th-12th grades will meet on the front lawn during the 11:00 a.m. service. No registration is necessary.
What about spiritual formation opportunities for adults?
Life-changing Lessons from Paul's Letter to the Ephesians will meet Sundays at 11:00 a.m. on Zoom. Visit our Adult Ministry page for the Zoom link and more information.
Other questions?
This is phase 1 of our reopening plan. We understand that the local situation regarding COVID guidelines is changing (for the better!). We will adjust our future plans—for June, July, and beyond—in consultation with the County, leaders, and staff at FPC. Watch future emails for more information. As always, if you have questions, please reach out to us. We can't wait to see you in person!
---
UPDATE MARCH 24, 2021:
This past week marks the one-year anniversary of the coronavirus global pandemic that led to sheltering in place and moving our lives, including worship and the ministries of our church, online. As I reflect back over these past 12 months, I'm so grateful for the many church leaders and volunteers who have demonstrated resilience, creativity, and perseverance in continuing and even expanding our ministry and pastoral care of First Presbyterian Church. We have been stretched, have learned, and have grown a lot through this last year, and we have hung in there together as a family of faith. Thank you to everyone whose generosity, continued support, and encouragement has carried us through. Thanks be to God!
Today, I am also thrilled to share with you that we are taking the next steps to return to in-person worship in our beautiful sanctuary and, eventually, to expand in-person opportunities to a broader range of ministries and programs at FPC. With the guidance of our COVID Task Force, staff, and other leaders, our Session has approved a plan to begin opening the doors for in-person worship on Sunday, May 2.
As I'm sure you can appreciate, there are many logistics to navigate as we want to reopen in a way that continues to keep people safe and continues to offer excellent worship and other ministries online for those who are not yet ready for in-person experiences. With that in mind, here are a few initial answers to common questions:
Rationale: Why are we making plans to return to in-person worship at this time?
A majority of staff and worship leaders, along with a significant percentage of our congregation, are vaccinated or are in the process of completing their vaccinations.
County rates of infection, hospitalization, and transmission are decreasing and trending in the right direction to indicate a safer environment for gathering. We will continue to monitor this closely and may adapt plans as necessary if this changes.
We have a clearer understanding of the guidelines and systems to support those guidelines to create a safer environment for gathering.
We recognize that this timeline for reopening will feel too soon for some and too late for others. I can assure you that church leaders are being well-resourced by medical and public health professionals and are being careful to prayerfully discern our next steps. Again, we will adjust our plans if public health conditions necessitate a change.
Logistics: How will we reopen our campus to in-person worship and ministry?
First and foremost, we will continue to follow County and State guidelines and look to some of our other partners (like similar churches) to determine practices that work best for our context. These will include registering for worship online to limit attendance based on our allowed capacity, social distancing, wearing masks, and limiting time and exposures getting into and out of the sanctuary. We will also be carefully implementing appropriate cleaning protocols to maintain a safe space for our church family and the non-profit partners who share our campus. We will communicate more specific details as we get closer to the date since we know guidelines could change between now and then.
We will continue (as we have for years) having worship and, likely, other ministries offered online so that they are available to everyone regardless of health, safety concerns, accessibility, etc. We are committed to making sure that everyone is included and welcomed, cared for, loved, and nurtured as we move forward.
As the weather allows, we will explore offering fellowship and other ministries, like small groups or Sunday School, outdoors.
As always, I welcome your feedback and your questions. We still have details to work out, but we are confident that we have the people and processes in place to move forward safely and responsibly. In the meantime, I encourage you to dive into the opportunities we will be offering for Holy Week and Easter, which are included here in the Messenger, in our weekly emails, and on our website. Although we will be online for these celebrations this year, I am looking forward to sharing with you the Good News that Christ is risen! He is risen indeed!
Peace,
Corey