Lent 2021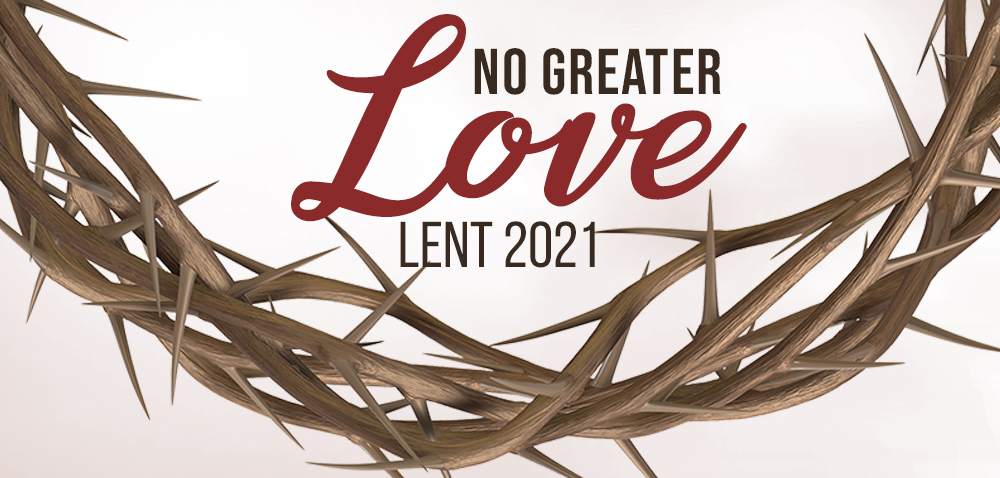 Our theme for Lent, Holy Week, and Easter at FPC this year is "No Greater Love." Throughout the season, we will be exploring the stories from Jesus' final days and hours before his death and resurrection. These are sometimes called the Passion stories or referred to as the Passion of Christ — from the root meaning of passion: to suffer. We tend to use the word passion with the sense of a deep desire or enthusiasm — especially an intense love of someone or something. So, what is the relationship between these two ideas, love and suffering? Together we will explore stories of Christ's love for and suffering on behalf of us and how our call to follow Christ today will lead us, too, on a journey of suffering and love for others.
In response to COVID-19 and out of concern for your health, all FPC experiences are online at this time. Although we are not together in person, we will gather virtually to worship, care for and encourage one another, and to grow in faith together.
Special Services and Events
Mardi Gras, February 16: Virtual Game Night
FPC's Mardi Gras Party will look a little different this year. We will gather together on Zoom for a game night from 6:00–7:00 p.m. Get festive if you want — find some beads or a mask or even bake a king cake, and get ready for some competitive fun with the FPC family. We will host separate parties for kids, youth, and adults. No need to register; just join in! Find the link to the Zoom game nights on the event listed on our website.
Ash Wednesday, February 17: Drive-Thru Ashes and Online Worship

Ash Wednesday begins the Season of Lent. Although we will not gather in person, Pastor Corey will offer "Drive-Thru" Imposition of Ashes in the parking lot at FPC from 1:00–2:00 p.m. Then, we invite you to tune in online for a reflective Ash Wednesday livestream worship service at 7:00 p.m.
Sundays, February 21–April 4: Online Lenten Worship
Sundays at 9:00 a.m., join us online for Lenten worship and the Sermon Series, "No Greater Love."
March 29–April 2: Holy Week
Details for Holy Week and Easter services will be announced soon.
Small Groups and Classes
Lenten Reflections on the Confession of Belhar
Sundays, 10:15 a.m. (February 21–March 28) led by Rev. Mary Lynn Tobin and Dave Campbell

Calls for unity are everywhere, but agreement on what that means is elusive. Reflect together on the most recent addition to the Presbyterian Book of Confessions: the Belhar Confession. Written in the 1980s in South Africa, Belhar challenges the Church's complicity in supporting apartheid and explores Christian unity in a church and nation divided over issues of race and poverty.
As we study the Belhar Confession and read a book of daily devotions entitled Lenten Reflections on the Confession of Belhar, we will ask:
What should we stop doing (confess and repent)?
What should we keep doing (toward reconciliation and justice)?
What should we start doing (new actions in a new time)?
Sunday sessions will provide context and background on how this confession came to be, reflections on its meaning in light of our local and national conversations about race and unity, and opportunities for participants to share insights arising from their daily devotions. Contact Kimberly Shober to reserve a book.
---
24 Hours that Changed the World Weekly Small Groups
In addition to the Sunday morning adult study group, we encourage small groups, either currently meeting or newly formed for Lent this year, to study 24 Hours That Changed the World, by pastor Adam Hamilton. Hamilton integrates Biblical study with historical and archeological references in an informative and inspiring study that deepen our Lenten journey. You can buy a copy of the book on Amazon. We will be using the expanded paperback edition, and there is a Kindle version as well.

Do you find yourself without a small group right now? We will organize small groups to meet weekly via Zoom during Lent to study 24 Hours That Changed the World as a group. Email Miriam Nelson to indicate your interest in joining a small group for Lent.
---
Wednesday Evening Town Halls
Are you experiencing COVID fatigue? Do you miss being in person with your church family? Are you wondering if the vaccine is right for you? Do you wonder if it is safe to see family now that you are vaccinated? Are you having anxiety and depression? Are you feeling isolated? We would like to address these issues and questions at FPC. We are hosting four, online "town hall" events to bring back Wednesday MX at 7:00 p.m. We will start with Pastor Corey and continue with several counselors and doctors. These live events will be held on Wednesdays, February 24–March 17 on Zoom.
February 24:

What's Happening at FPC—Q&A with Corey Nelson
March 3:

Looking at Your Story for Spiritual Transformation and Healing: Lisa Russel from Restoration Counseling
March 10:

COVID-19 & Vaccine Updates: Drs. John Cawley, Shelley Moore, and Claibourne Dungy
March 17:

Pandemic Mental Health Care: Shelly Winemiller from Oasis Center for Healing and Wellness